For NI Motion Contoller Series
Includes both power stage and idustrial connectivity for motion peripherals such as switches, encoders, etc...
Ease of cabling and easy of maintenance
Two types of modules currently available
DC Linear for low noise (no switching) DC motors up to ±3A / 60V
EC Brushless for EC motors with Hall sensors up to ±8A / 60V
National Instruments NI Motion controllers (73XX Series, PCI or PXI format) are longstanding yet powerful motion controllers that can be used for many applications. In certain circumstances, they may come as an alternative to solutions using NI SoftMotion on a Real-Time controller.
The NI Motion LabVIEW API driver is organized into high-level straightforward VIs for seamless simple application developpement, and advanced detailed VIs for high performance systems.
However, NI Motion controllers only offer low-level and low power signals, and interfacing them to a full industrial motion system (motors, encoders, limit switches) may be a tedious task, requiring the assembly of power amplifiers, differential line receivers for encoders, and opto-isolation / level shifting for limit switches.
We have developed DC and EC modules with the above components fully integrated :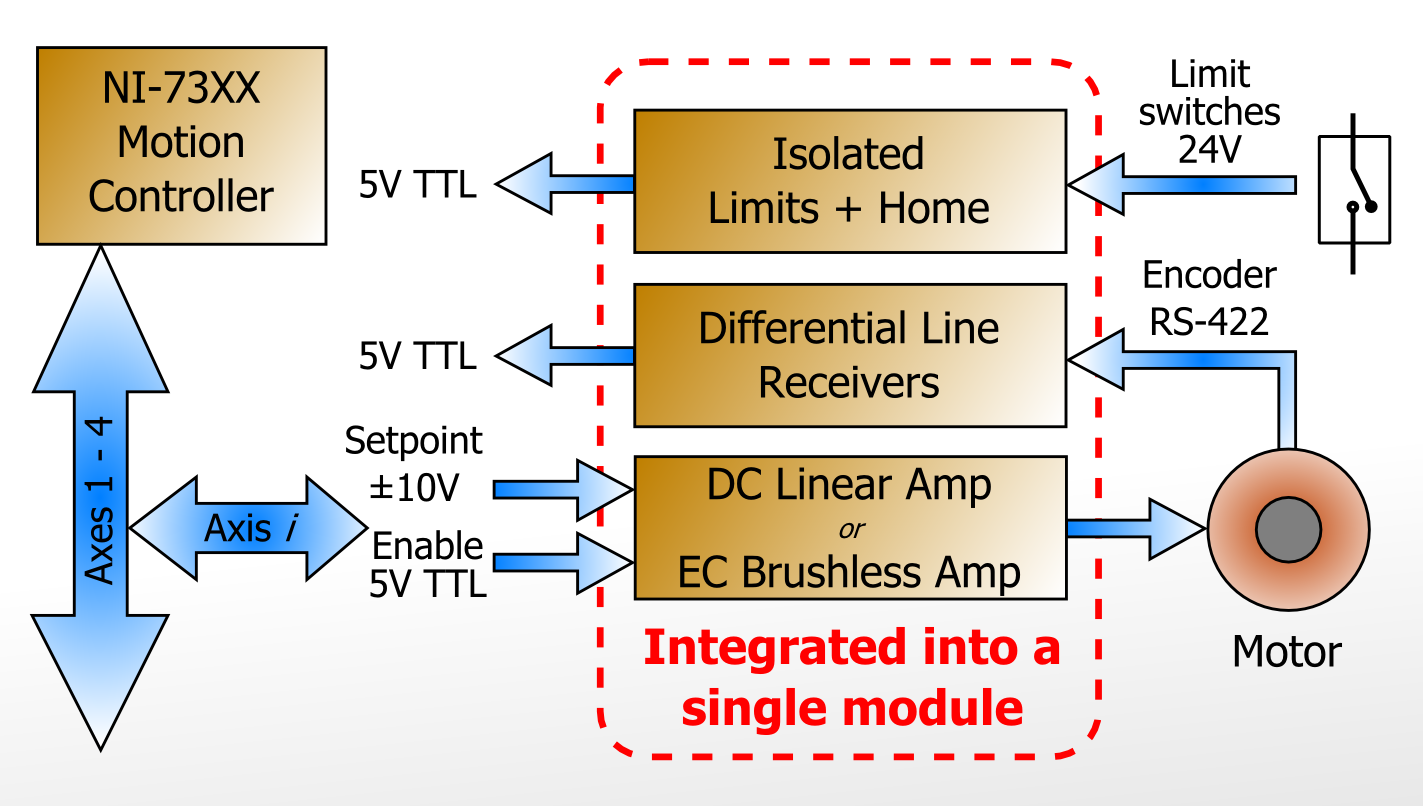 These modules are designed to fit in a common chassis that routes all the needed lines from the 73xx controller 68 pin connector to 4 slots, one for each axis / module.
Connections are dispatched with a "1 sensor - 1 cable - 1 connector" philosophy, removing the need for all intermediate elements (like terminal junction blocks for power distribution), the sensors being directly wired to the chassis.
The chassis includes various power supplies. A small 5V supply powers the encoders and the internal electronics, while the main power for motors can come from one single or several separate supplies (routable to individual modules), allowing to drive motors with different voltages in the same chassis.
Features :
Modular design, per axis DC/EC choice
Compact chassis
Internal power supply
Fast & easy connectivity
Optically isolated limit switch inputs
Limit switch connectors with power lines sensor: "1 sensor – 1 cable – 1 connector)
Voltage or current control mode selectable by a switch
Current limit adjustable by a resistor
Hardware safety protections included (thermal and overcurrent)
Hardware Enable input per axis
Hardware emergency Shutdown on chassis (common for all axis)
Low noise measurement and motion control
up to 4 axes in a 4U-42F enclosure
8 axes in a full sized 19" format
rackable versions available